You are thinking about adding a residential or commercial custom gate to your property. With so many benefits, such as added security, heightened curb appeal, and more privacy, a new custom gate is something you may be considering. Here at Centra Systems Hawaii, we've been serving the nearby communities of Wailuku for more than three decades. Our commitment to added value and customer service are unmatched, and we promise to ensure you are 100% satisfied with your custom gate installation service. To get started, contact us for a free quote today!
The Custom Gate Design Process
There are a lot of steps involved in a custom gate design process. Our team at Centra Systems Hawaii ensures that every detail is meticulously crafted, so you have the highest-quality gate that aligns with your vision.

Initial Consultation
When you call our gate company in Hawaii, we'll set a time where we can meet at your home or office space and listen to your vision. This will give us a good idea of what your property looks like and the other surrounding decor we'll need to consider. We'll take measurements so we can have an accurate size, as well as notate if you want stylistic features, such as added columns or steel posts, or if these are existing already.

Design Process
Once we have a solid understanding of what you'd like to see in a custom gate, we'll get to work on the design process, carefully sketching it out and using computer assistance to get the details just right. From gate lighting and landscaping to the surrounding fence and the architectural details, every element will be added so you'll have a good idea of what the finished gate will look like. It's at this stage you can make changes before we begin the pre-fabrication process.

Pre-Fabrication Process
During the pre-fabrication process, the client's final design changes are implemented on the drawing. All of the materials for the custom residential or commercial gate are ordered, and the installation process for any underground wiring for automatic gates, as well as other safety devices, is laid out. With the plan in place, the fabrication process is about to begin!

Fabrication Process
The fabrication process is where the magic happens and your custom gate comes to life. Whether you are looking for a wrought iron gate or you chose a custom gate with steel and wood, we've got your custom gate materials and fabrication handled. At Centra Systems Hawaii, we have an in-house metal fabrication shop, as well as on-site welding equipment and services. Plus, we offer a professional paint booth for all of our custom gates that require painting. Depending on your custom gate design, the fabrication process can be quick or can be lengthy, depending on how ornate and elaborate your custom design is.

Final Touches
Once all of the metal fabrication is complete, it's time for the final touches. Here, we'll add paint if that is what your custom gate design calls for. Or, perhaps you've chosen our powder coated patina finish to give your custom gate a unique flair. The gate will be cleaned and primed for the finishing touches before heading to your Hawaii home as its final destination.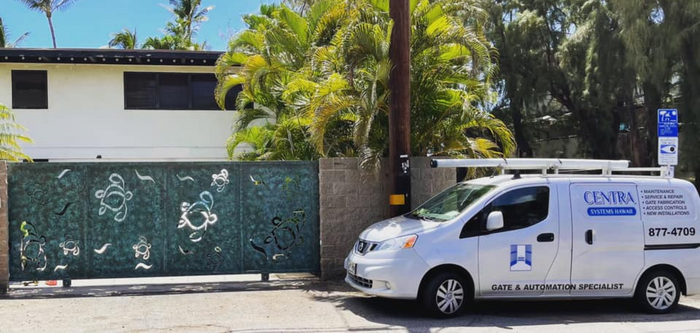 Custom Gate Installation
Once your gate is finished, the custom gate installation process can begin. We start by digging the footers for the hinge posts and the columns. All of the wiring will then be installed and hooked up, and the access control panel will be installed. If you are opting for add-ons, such as an intercom system, that will be installed at this time.. The custom gate will next be lined up and welded to the posts. The gate will be tested and adjusted for the proper swing and opening and closing mechanisms. Finally, the flourishes, such as decorative statues, will be added, along with any gate lighting, signs, and additional landscaping needs.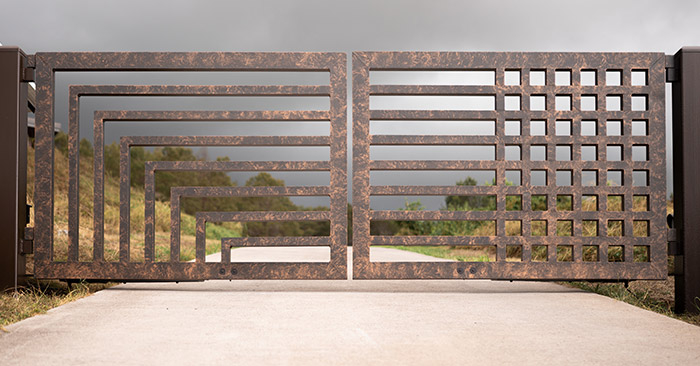 Custom Residential Gate
If you are looking to make your home stand out from the crowd, a custom residential gate is a great way to go. Not only can you enjoy the benefits a custom automatic gate affords, but you can choose the style that is right for you.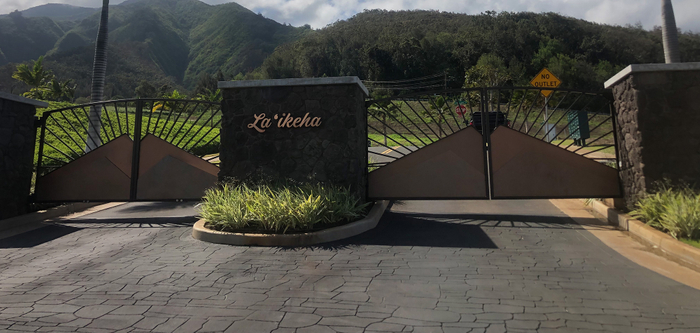 Custom Commercial Gate
Keeping your business secure is a high priority for businesses across Hawaii, and investing in a custom commercial gate is one of the best ways to ensure your business stays secure. This allows you to choose the size and design that will be the strongest and that will last.
PARTNER WITH CENTRA SYSTEMS HAWAII TODAY
Our gate company in Hawaii has more than 30 years of experience crafting the highest-quality custom residential and commercial gates. Our team cannot wait to help you have the perfect design that will meet your needs, will last for years to come, and that will add value to your property and to your life. We offer comprehensive gate services, including gate design, installation, service and repair, and maintenance. Whether you're having problems with the gate opening and closing or someone accidentally ran into your gate, we can help. Let our experienced team help.
If you are interested in learning more, reach out to our team with your questions, and schedule an initial consultation today!